Organizations don't grow and change. People grow and change. That's the focus of our many and varied programs, which are designed to develop business leaders and to bring out the very best performance in each and every employee!
We create an environment in which individuals can grow and learn. That translates into your organization's success!
In our seminars and workshops, we target the key issues in today's workplace. We would also be happy to develop a program that's designed to meet your specific needs.
Invest in your employees… Invest in yourself!
Download brochure
Hot Off the Presses!
The books you've been waiting for!

In Take it Back, "Dr. Potetz shows us that
personal power is an extremely valuable,
readily accessible (and all too underutilized)
resource."

Don't Ever Let It Go describes a
practical pathway to acting on your
own behalf without feeling selfish.
Become the driver of your own life.
"Dr. Potetz brings to both books the same highly engaging, matter-of-fact, humor-infused tone that routinely brings her standing ovations everywhere she speaks, both nationally and internationally."
Learn how to harness your personal power today!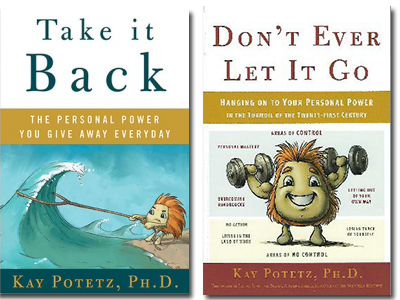 Only $20.00 each
or purchase both books for $30.00
(includes tax and shipping/handling)
eBooks are also available on Amazon and Barnes & Noble!